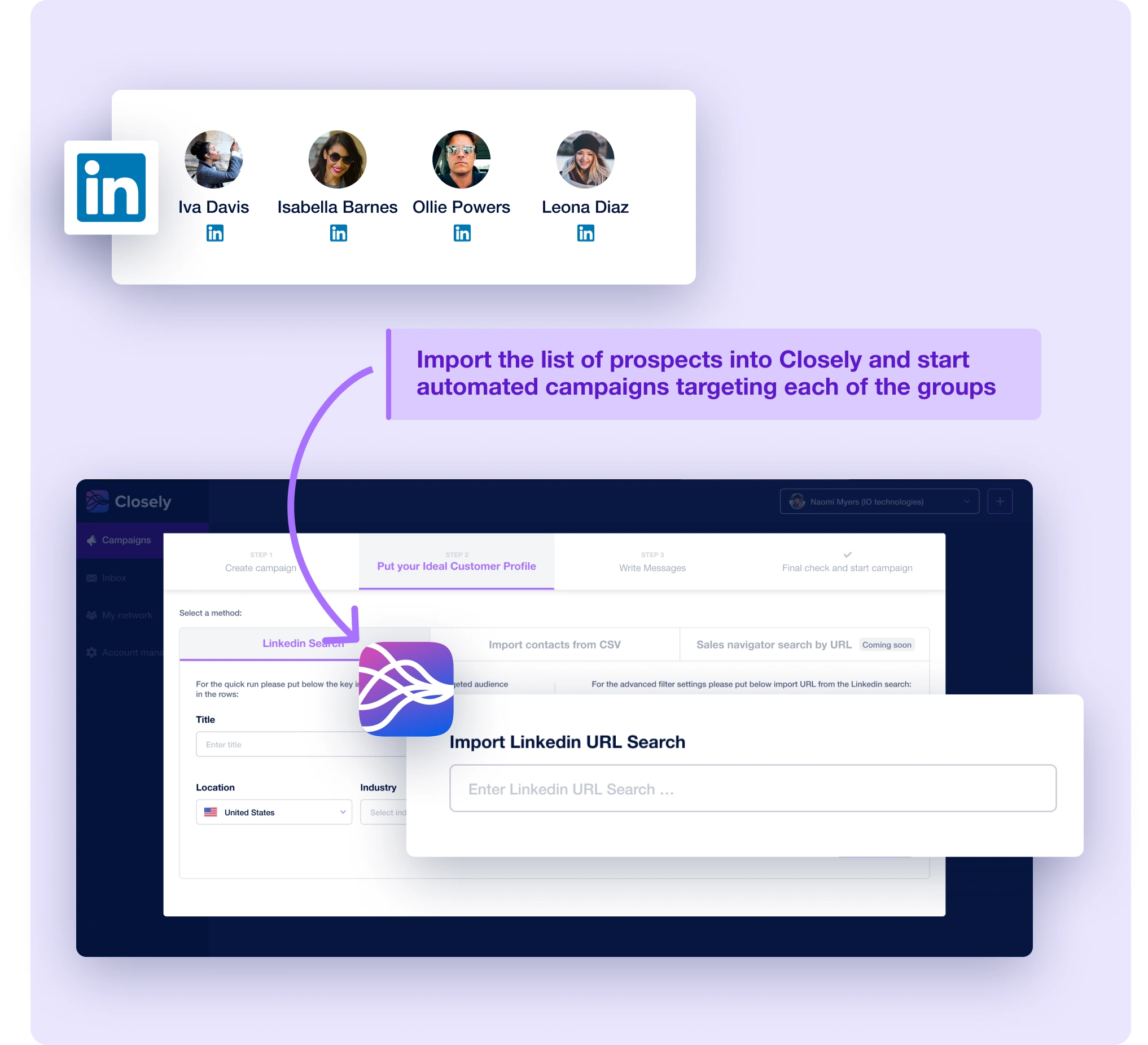 Find only those who are relevant
Pitching people who don't need your product is like forcing some delicate madam to listen to gangsta rap.
You'll never get what you want
You may end up hurt instead
It's very time-consuming and pointless business
Do yourself a favor & reach out to those who navigate the same waters as you:
Hacks
Scrape people from relevant Facebook groups and turn their names into LinkedIn profiles.
Filter niche posts on LinkedIn and flush out people who got engaged with them.
Sift through LinkedIn events that have weight in your industry and scrape people from them.
Apply more filters to your search: combine multiple filters, always use location filtering to draw out prospects from different cities.
Compile a list of influencers in your industry and explore their Facebook profiles. Find relevant posts to pull people from comments, check their friend list to dig out targets.
3x times
more qualified leads
+ 43%
increase in reply rate
+ 60
new meetings per month
Adjust your messaging quickly
The only way to know your audience better is to communicate with them and note things they like and don't like.

Hacks
Build personalized sequences educating prospects on your product.
Monitor messages that hook your audience to double down on those templates.
Use our templates to differentiate your brand by adding images, videos, and even custom elements. Learn how to strategically position user surveys.
Instantly get results of your campaigns using Closely's digestible dashboards. Share insights with your team.
Stop inefficient campaigns & replace them faster.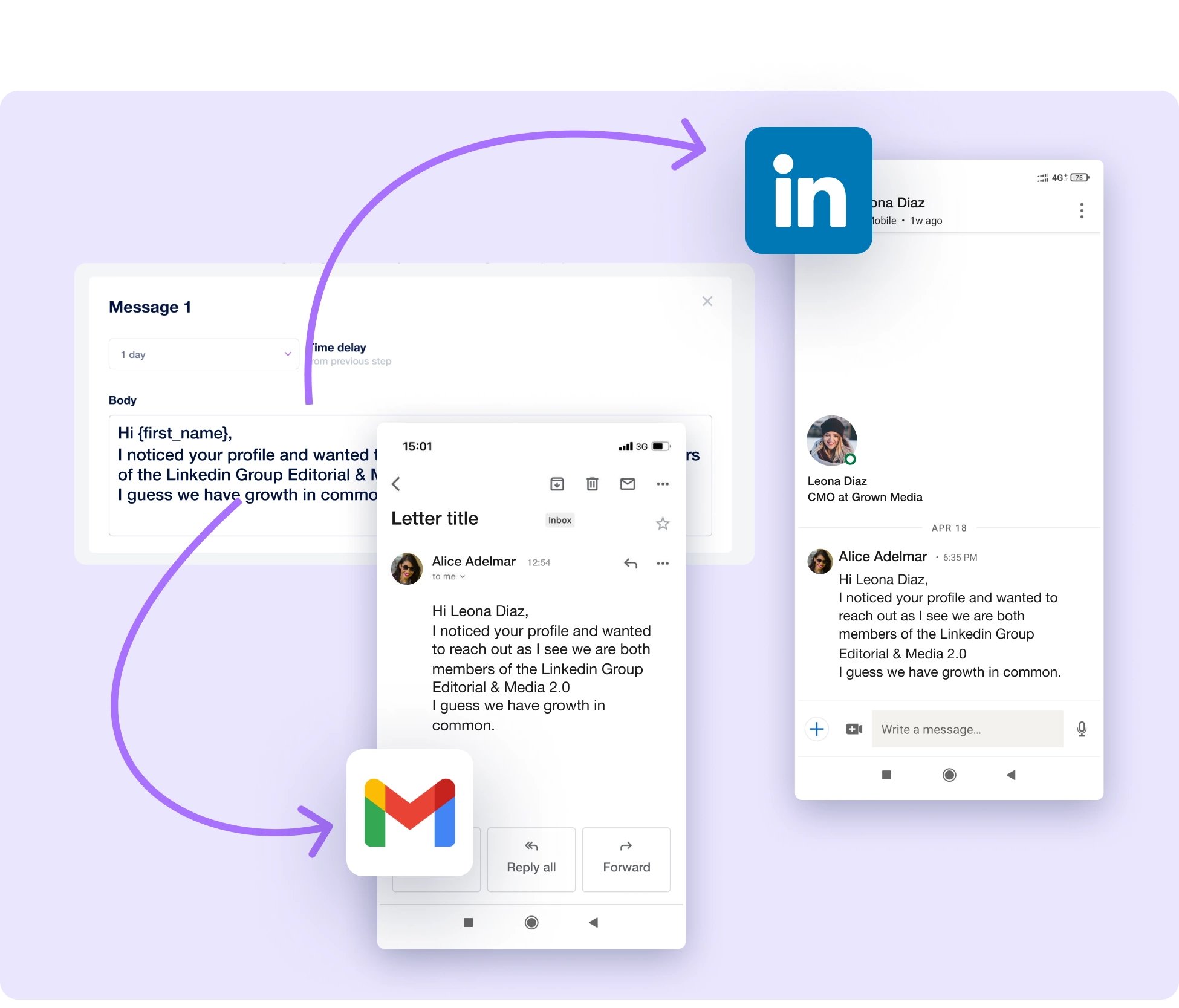 Go Multichannel
Coming soon
Your potential customers may not be in the mood to talk on LinkedIn. Older generations may prefer a direct email offer with a more official tone and statistical data.
Embracing multiple channels lets you get into the heart of the buyer grid and reinforce the sense of familiarity with your brand.
Hacks
Go to Closely and place the flow of leads in LinkedIn + Email nurturing sequence (on autopilot)
Convert your outbound strategy into inbound, educating your prospects on your solution
Align messages across channels visually & boost the image of the company
Expound on the benefits of your product, provide testimonials of your existing and previous customers to make them feel secure about it.
3 easy steps to start using
STEP
3
Start searching people
Common Questions
How do you automate LinkedIn messages?
You can write LinkedIn messages and send them to prospects automatically. LinkedIn automation tools enable scheduled running of sequences so you can auto connect and follow up your prospects at the time when they're most likely to get engaged with you.

LinkedIn automation tools automatically generate reports for your campaigns, making it easier for you to improve the way you reach out to targets.
Can you automate LinkedIn connections?
Automation tools like Closely allow you to auto connect and send automated messages to your targets on LinkedIn with a single click of a button.

Type in individual's profile name or import contacts in CSV Set up the daily limit for your connection requests Create your message sequences Hit "Run"

Get your campaigns running in the background while you're busy with other tasks.
Is LinkedIn automation illegal?
LinkedIn automation is not illegal. However, if you use unreliable instruments, especially extensions, you put your account at risk of getting banned.

To avoid LinkedIn Jail, make sure you use tools that limit the number of connections or let you control it. Opt for cloud-based tools rather than extensions.
What is LinkedIn's monthly search limit?
The number of searches on LinkedIn is limited and is calculated based on your profile's activities.

For a standard (free LinkedIn), the results will display up to 1000 profiles or 100 pages.

For Sales Navigator, the results will be limited to 2500 profiles or 100 pages.
What is a good LinkedIn message?
There is no one general rule for a working LinkedIn message. Everything depends on how well you research your audience, your goals that you want to achieve with your campaigns, your LinkedIn profile, and your outreach strategy.
As a part of an efficient outreach strategy, a good cold message is generally:
  -  Personalized
  -  Short and comprehensive
  -  Includes your value proposition
Read more about a perfect LinkedIn cold message
here
What is LinkedIn jail?
LinkedIn Jail is a situation when your account gets restricted or banned by LinkedIn for breaking LinkedIn's Professional Community Policies.

Getting into LinkedIn Jail can have a negative impact on your reputation and lead generation.
What is a good LinkedIn bio?
In general, your profile bio should highlight your achievement and show off your personality.

But there are usually some components of a perfect LinkedIn profile.

  -  Custom background photo
  -  Information about yourself all filled out: your interests, career achievements, education, USP
  -  Custom profile URL
  -  Number of connections
  -  References for animation
Ready to level up your LinkedIn Outreach strategy? Let's talk.
Enter your email and we'll let you know how to start